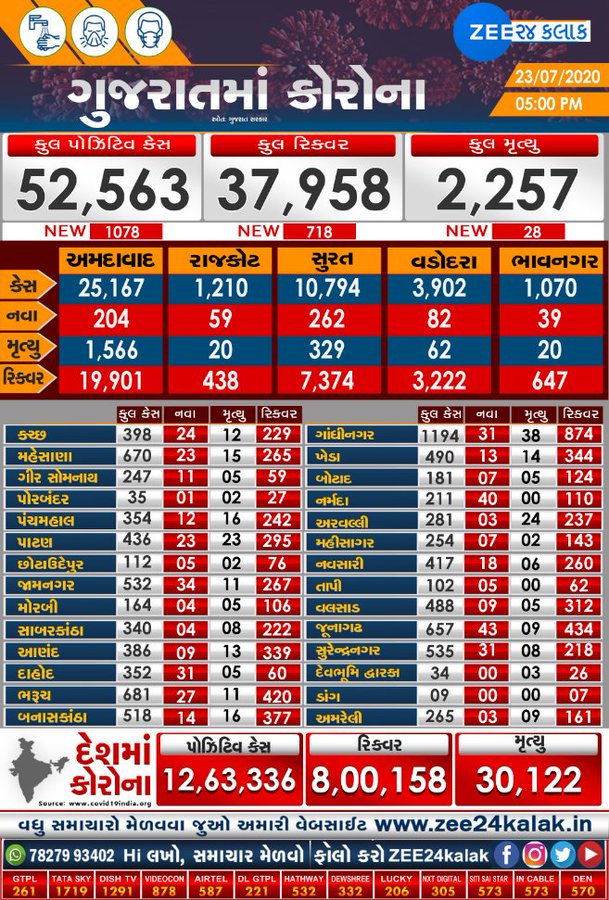 So there will be a 14-day lockdown in Manipur from 2pm on Thursday. A 10-day lockdown will be imposed in Bhopal from 8 pm on July 24. At the same time, news is coming that the cabinet minister of Corona in Madhya Pradesh has tested positive.
His name has not come up though. He was also present at the cabinet meeting on Wednesday. He also attended the funeral of Lalji Tandon in Lucknow. The minister has been admitted to hospital.
The number of patients in the country has reached 12 lakh 41 thousand 654. Therefore, the Jharkhand government has taken strict action against the lockdown rules. A fine of Rs 1 lakh can now be imposed for not wearing a mask and spitting in public places. The decision was taken by the Jharkhand cabinet on Wednesday night.


Corona upgrades
As many as 45,601 cases of corona virus were reported in the country on Wednesday. Maharashtra has the highest number of 10,576 cases. This is the biggest figure of a day. These figures are as per
covid19india.org
.

Plasma Bank started in Chennai

The country's second plasma bank has been launched in Chennai after the capital Delhi. The use of plasma therapy for the treatment of corona patients has yielded good results, said Chief Health Secretary J. Seeing this, the Tamil Nadu government has prepared this plasma bank. The country's first plasma bank was launched in Delhi two weeks ago.
As many as 15 million 75 thousand 369 tests have been conducted till July 22, the Indian Council of Medical Research said on Wednesday. As well as 3 lakh 50 thousand 823 samples have been tested in the last 24 hours.
The Union Health Ministry released its figures this morning. According to him, 45 thousand 720 cases have come up in the last 24 hours. At the same time, 1,129 people have died.
Thus, the number of infected people in the country has reached 12 lakh 38 thousand 635. In which 4 lakh 26 thousand 167 active cases. 7 lakh 82 thousand 60+ have also been treated. So far 29 thousand 861 people have died in the country.
The Carolina cabinet has decided to cancel the legislature session from July 27 because of Corona. A cabinet meeting has been called for Monday. In which a complete lockdown can be decided.
At the Tamil Nadu Raj Bhavan, 84 people have tested positive for Corona. All have been quarantined.
Madhya Pradesh: 190 positive cases were found in Bhopal on Thursday. With this, the number of patients in the capital has increased to around 5 thousand. At the same time, 148 people have died so far.
There will be a ten-day lockdown in Bhopal on July 24 from 8 pm due to the rising corona infection. At the same time, orders issued in different areas have also been canceled. All markets will remain open on Thursdays and Fridays as before. So far all areas will have a lockdown from Friday night i.e. 3rd August for 10 days.
Lockdown is taking place again in the city after about two months, an increase of one thousand patients a day in Bhopal alone. In the early days it took 56 days for the number of patients to reach one thousand. A CIRO survey was conducted in Indore which revealed that %% of the population in the city's content zone is infected. The positive rate is 7.72%.