As many as 676 people died in the country on Friday, including 26,285 patients so far
Maharashtra had the highest number of 8308 people on Friday, followed by Tamil Nadu with 4538 people.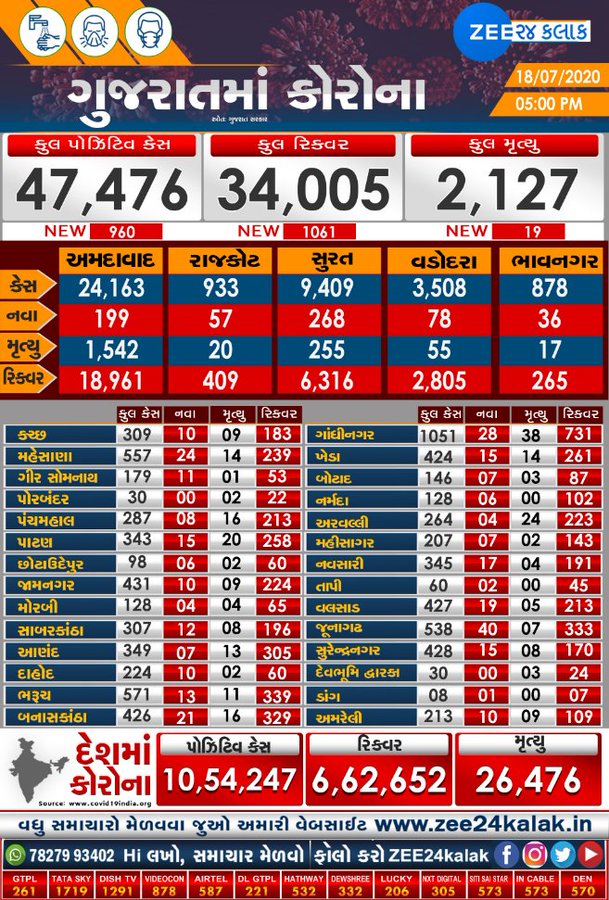 At the same time, the Election Commission has sought suggestions from national and regional parties on how to conduct election campaigns and public rallies amid the epidemic. All parties can send suggestions till July 31.
Corona upgrades
According to the Indian Council Medical Research, 1 crore 34 lakh 33 thousand 742 samples have been tested in the country so far. 3 lakh 61 thousand 024 tests have also been done in the last 24 hours.
In the last 24 hours, 34,884 cases have come to light and 671 people have died, the Union Health Ministry said on Saturday. With this, 10 lakh 38 thousand 716 infections have been reported in the country. Of which 3 lakh 58 thousand 792 are active cases. At the same time 6 lakh 53 thousand 751 patients have recovered. So far 26 thousand 273 patients have died in the country.
Corona cases are growing rapidly in the country. So far 10 lakh 40 thousand 457 people have been infected. In which there are 3 lakh 59 thousand 701 active patients. 6 lakh 54 thousand 78 people have recovered, while 26 thousand 285 patients have died. All these statistics are as per covid19india.org.
In this regard, the Director General of ICMR, Bal. Balram Bhargava told the states on Saturday that rapid antigen testing could be done in the district to identify more and more infected people.
However, nine parties in Bihar have written to the Election Commission expressing concern over Koro's transition. It said the commission should reassure the people of Bihar that the entire election process should not lead to an explosion of corona. The state is scheduled to hold elections later this year.