Epidemic / 580 corona cases in the state in 24 hours, out of a total of 20 thousand cases in Ahmedabad, only so many are active
Not only is the corona virus being eradicated across the country, more than 500 cases have been reported in Gujarat for several consecutive days. The situation in Ahmedabad is even more dire as the state has the highest number of corona cases reported here and the death rate is also high.
More than 500 cases of corona in Gujarat for the 14th day in a row
After Ahmedabad, the situation in Surat is deteriorating
So far a total of 30,158 cases have been reported in the state
According to a press note released by the health department, 580 new cases of corona virus have been reported in the last 24 hours. At the same time, the total number of Corona infections has reached 30,158. Let me tell you, today is the 14th day that more than 500 cases of Corona virus have been reported which is a matter of real concern.
In Ahmedabad, 219 new cases were reported in the last 24 hours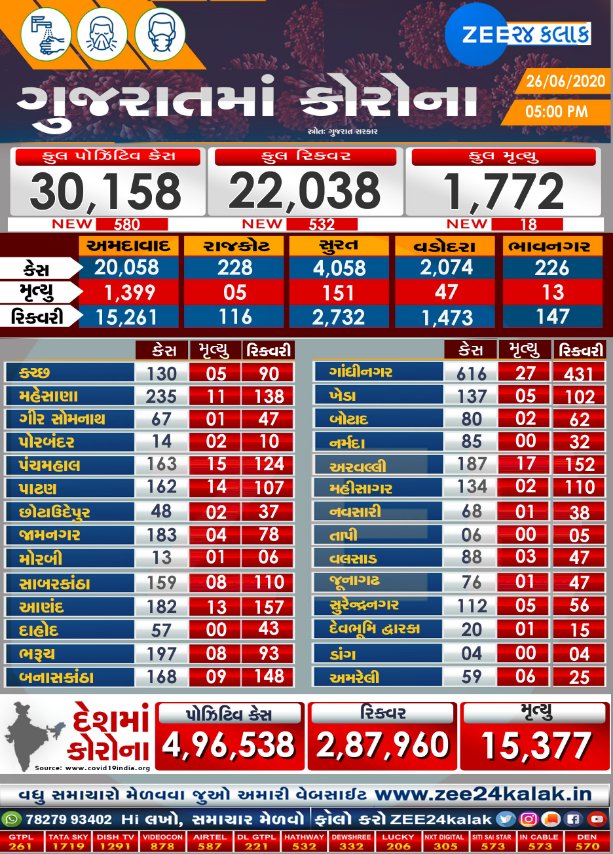 GUJARAT CORONA UPDATES
The highest number of 219 cases has been reported in Ahmedabad while 182 new cases of corona virus have been reported in Surat in the last 24 hours. In the last 24 hours, 532 patients have been discharged from the hospital after being released from the corona virus. Thus far, a total of 22,038 patients across the state have undergone coronary heart disease.
Only 3401 active cases in Ahmedabad
In Ahmedabad, Gujarat, corona is rampant, cases are increasing day by day and so far 1398 people have died during treatment. 15,259 people have been coronated. Fortunately, there are only 3401 active cases left in Ahmedabad.
Details of cases registered in the last 24 hours in various districts
Aarogya Setu is a mobile application developed by the Government of India to connect essential health services with the people of India in our combined fight against COVID-19. The App is aimed at augmenting the initiatives of the Government of India, particularly the Department of Health, in proactively reaching out to and informing the users of the app regarding risks, best practices and relevant advisories pertaining to the containment of COVID-19.
DOWNLOAD CORONA OFFICIAL PRESS NOTE PDF DATE:-26/06/2020
Details of patients who died in the state in 24 hours
Details of those who died during treatment of corona virus in the last 24 hours in the state were also given in the press note. As many as 18 patients have died in the last 24 hours, thus far a total of 1772 people have died due to coronary heart disease in the state. At present 61 people are on ventilator, 6278 people are stable and 6348 cases are active.
This information is available until 8 p.m.