Epidemic / In the last 24 hours, as many cases have come in the state, so many shocking cases in Surat
Corona virus cases are on the rise in Gujarat. Especially in Ahmedabad, where the death toll is rising alarmingly, more than 500 cases of corona have been reported in the last 11 days. In the midst of all this, the state government's health department had reported cases of corona virus reported across the state in the last 24 hours.
The number of corona patients in Ahmedabad crossed 29 thousand
Cases are increasing alarmingly in Surat after Ahmedabad
According to a press note released by the health department, 549 new cases of corona virus have been reported in the last 24 hours. At the same time, the total number of Corona infections has reached 29,001. Let me tell you, over the last 12 days, more than 500 cases of Corona virus have been reported which is a matter of real concern.
In Ahmedabad, 215 new cases were reported in the last 24 hours...
After Ahmedabad, there is an increase in the case of Corona in Surat

Let me tell you that after Ahmedabad in Gujarat, the number of corona cases is gradually increasing in the diamond city of Surat. Which is a very worrying thing. It may be mentioned that 103 cases were registered on June 20, 176 cases on June 21 and 132 cases on June 22. Yesterday 175 cases were registered and today again 175 cases were registered. Thus, more than 100 cases have been reported for five consecutive days.
Details of patients who died in the state in 24 hours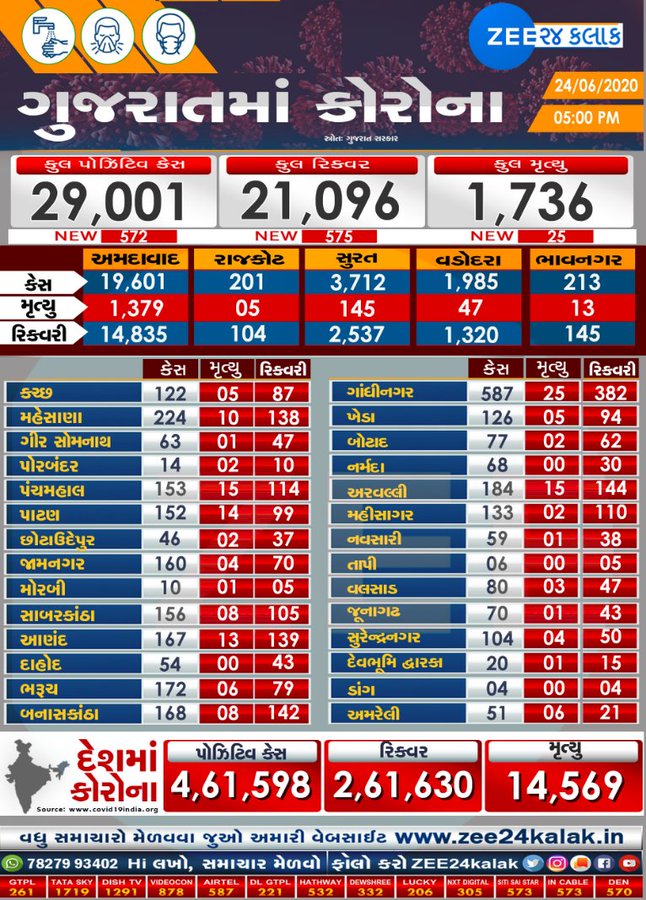 The details of those who died during the treatment of corona virus in the last 24 hours in the state were also given in the press note. As many as 25 patients have died in the last 24 hours, so far a total of 1736 people have died due to coronary heart disease in the state. At present 70 people are on ventilator, 6099 people are stable and 6169 cases are active.
This information is available until 8 p.m.