Cases of more than 500 corona for the fourth time in 13 days after anxiety / unlock-1, total death toll close to 1500
More than 500 corona cases for the fourth time in 13 days after anxiety / unlock-1, total death toll close to 1500

Cases of Corona virus have been on the rise since Unlock-1. While the highest number of cases in Gujarat has been reported in Ahmedabad and the number of patients has crossed 22,000, the state government's health department had given information on how many cases of corona virus have been reported in the last 24 hours across the state.
Corona virus cases cross 23 thousand in Gujarat
517 new cases reported in last 24 hours
Details of patients who died in the state in 24 hours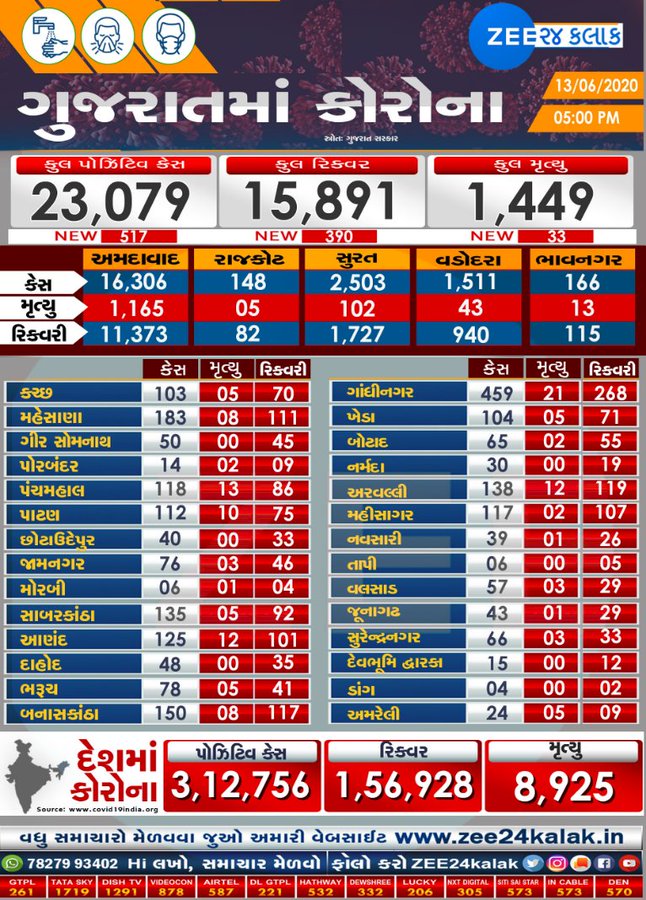 Details of those who died during treatment of corona virus in the state in the last 24 hours were also given in the press note. As many as 33 patients have died in the last 24 hours, thus far a total of 1449 people in the state have died due to coronary heart disease. At present 61 people are on ventilator and 5739 people are stable.
According to a press note officially released by the health department, a total of 517 new cases of corona have been reported in Gujarat in the last 24 hours. At the same time, the total number of corona patients in the state has risen to 23,079.
344 new cases of corona were reported in Ahmedabad
Details of cases registered in the last 24 hours in various districts
More than 500 cases reported for the fourth time in a row


Let me tell you, 13 days after Unlock-1 was declared in the state, for the fourth time in a row, more than 500 new cases of Corona have been reported. 510 cases were reported for the first time on the 5th. So on June 10, 510 cases were reported again. Then on the second day 513 cases were registered on 11th and today i.e. on 13th June 517 new cases were registered.
This information is available until 8 p.m.