Not the name of the epidemic / corona stop in the state, 480 cases in 24 hours, a total of 20 thousand
Cases of Corona virus have been on the rise in Gujarat since the lockdown. While the highest number of cases in Gujarat has been reported in Ahmedabad, the state government's health department had given information on how many cases of corona virus have been reported in the last 24 hours across the state.
The number of corona virus patients in the state has crossed 20,000
318 new cases were registered in Ahmedabad today
A total of 480 new cases of corona have been reported in Gujarat in the last 24 hours, according to information released by the health department. At the same time, the total number of corona patients in the state has reached 20097. Today 319 patients have recovered. So far a total of 13643 patients have recovered.
318 new cases of corona were reported in Ahmedabad
Details of cases registered in various districts in last 24 hours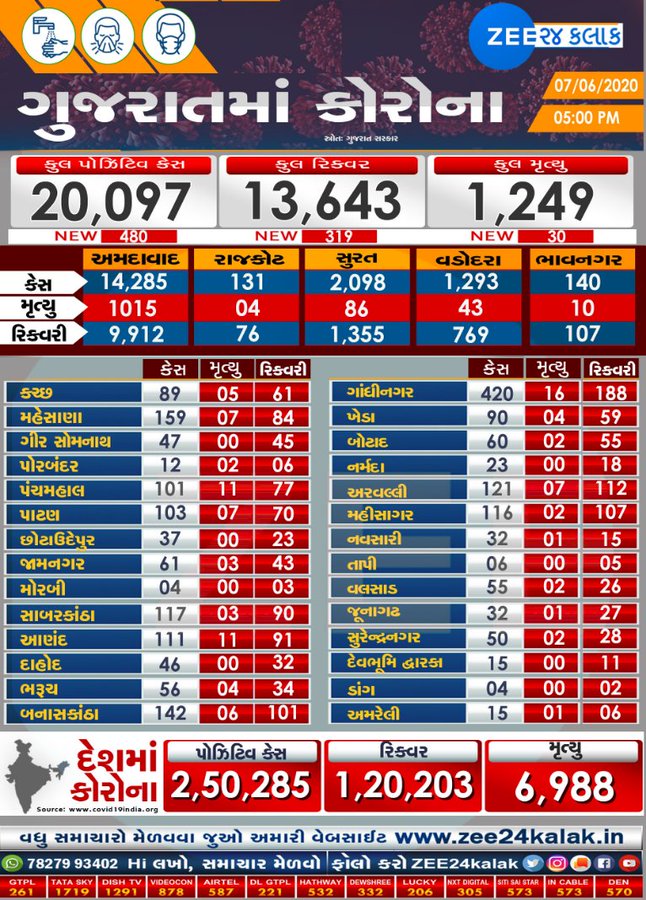 Details of patients who died in the state in 24 hours is as above
Details of those who died during treatment of corona virus in the last 24 hours in the state were also given in this press note. As many as 30 patients have died in the last 24 hours, so far a total of 1249 people have died due to coronary heart disease in the state. At present 67 people are on ventilator and 5138 people are stable.