Corona Gujarat LIVE / 372 new cases and 608 discharges of Corona in last 24 hours, 20 deaths, total cases 15,944-death toll 980
From the evening of May 28 to the evening of May 29, 372 new cases have been reported in the state and 20 have died while 608 patients have recovered. A total of 15,944 cases have been reported so far and the death toll has risen to 980 while 8,609 patients have recovered and returned home.
For the last 30 days, more than 300 cases of corona have been reported daily in the state and more than 250 in Ahmedabad
Note: Less than 250 cases were reported in Ahmedabad on May 21 and May 28
The Corona crisis in Gujarat is getting worse day by day. So the situation in Ahmedabad is dire as most of the cases in the state have been reported here.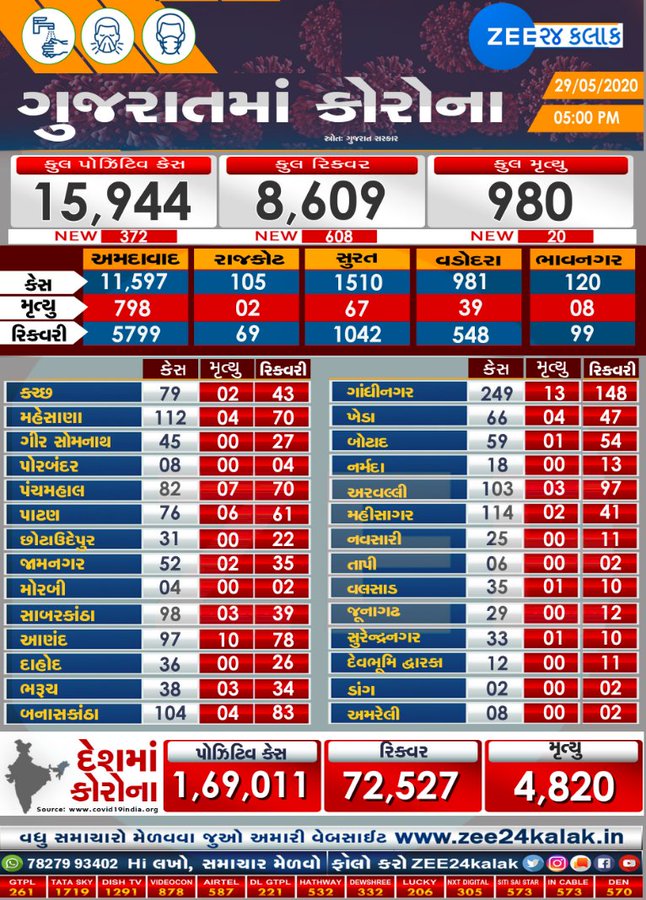 Corona became uncontrollable in Gujarat
Most of the 608 people recovered today
253 new cases were reported in Ahmedabad

According to a press release issued by the health department, a total of 372 new cases of corona virus have been reported in Gujarat in the last 24 hours. At the same time, the total number of corona patients in the state has risen to 15,944.
253 new cases of corona were reported in Ahmedabad
The highest number of 253 cases has been reported in Ahmedabad while 45 cases of corona virus have been reported in Surat in the last 24 hours. In the last 24 hours, 608 patients have been discharged from the hospital after being released from the corona virus. So far, a total of 8,609 patients across the state have undergone coronary heart disease.
Details of patients who died in the state in 24 hours
IMPORTANT LINK:::
CLICK HERE TO READ OFFICIAL PDF DATE:-29/05/2020
Details of those who died during treatment of corona virus in the last 24 hours in the state were also given in this press note. As many as 20 patients have died in the last 24 hours, bringing the total number of deaths in the state to 980 due to coronary heart disease. At present 68 people are on ventilator and 6287 people are stable.